Terry G. Coleman
Tutor
Contact
Biography
From 1969 to 1996, Terry worked for the Calgary Police Service, serving in numerous areas including Major Crimes, CrimeStoppers (started the first Canadian program), Surveillance (including managing the surveillance teams for the 1988 Olympics), Organized Crime investigations including the investigation of Outlaw Motorcycle Gangs, Mounted Unit, Canine Unit, Special Weapons Unit, Disaster Preparedness and Major Incident Response, Commercial Crime, Arson, and the Youth Unit. He left the Calgary Police, after 27+ years, as the Inspector - Professional Standards and Director of Human Resources for the 1997 World Police/Fire Games.
From 1997 to 2007, Terry was the Chief of Police in Moose Jaw. During that time he was the Chair of the Criminal Intelligence Service Saskatchewan and in that capacity was also the Saskatchewan director on the Criminal Intelligence Service Canada; President of the Saskatchewan Association of Chiefs of Police, and the Saskatchewan director on the board of the Canadian Association of Chiefs of Police. He has also been a member of the Canadian Association of Chiefs of Police – Human Resource Committee since 1998 and is the co-chair of the CACP – HR subcommittee with respect to Police/Mental Health [www.pmhl.ca]. In 2003, he was awarded the Order of Merit for Police Forces by the Governor General. From 2007 to 2008, Terry was the Deputy Minister of Corrections, Public Safety and Policing for the government of Saskatchewan; from 2008 to 2009 he was the Deputy Minister of Municipal Affairs.
Terry has a Master of Human Resource Management as well as a M.A. - Police Studies from the University of Regina and is currently completing a PhD - Police Studies at the University of Regina. His research focus is the measurement of the organizational performance of police organizations. He has designed and delivered courses on public sector leadership, management and policing for Dalhousie University College of Continuing Education, the Canadian Police College, the Saskatchewan Police College and the University of Regina as well as an executive strategic policing program for the Barbados Police and the St Lucia Police.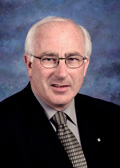 Updated February 23 2015 by Student & Academic Services